Adam Chodzko: Great North Run Broadcast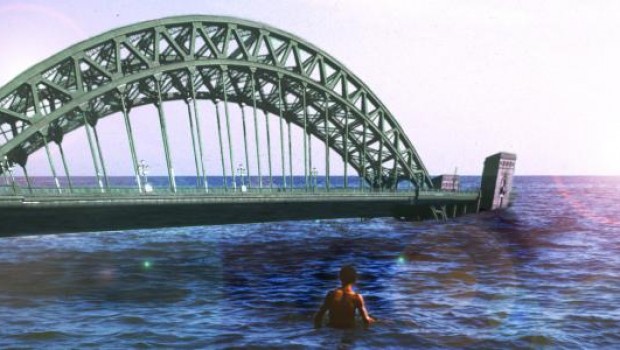 ---
Introduction
Co-commissioned as part of Great North Run Culture by Invisible Dust and basic.fm, Rising: The Future of the Race is a sonic exploration of a watery imagined future for Newcastle.
The commission will take the form of a free live performance event on 7 September, and a broadcast on basic.fm following the Great North Run on 15 September.
Basic.fm Broadcast Event: 15 September
Available for runners to listen following the race, it responds to Newcastle's freak weather of June 2012, and invisages a world where this was not a one-off 'Toon Monsoon'. Rather, the sight of the Great North runners passing over the Tyne Bridge signifies the city's ritual preperations for submergence.
Chodzko worked with Dr Claire Walsh, Researcher in Water Resources, School of Civil Engineering and Geosciences at Newcastle University and Tyndall Centre for Climate Change Research, in devising this hypnotic piece about adaptation to changing environments and the realities of climate change and our future.
It will be broadcast live on the day of the race from 3pm, available to listen here. Part of his commission will also incluse a live performance at the Tyneside Cinema on Saturday 7th Sepember.
Listen to basic.fm now on your phone via the free basic.fm iTunes and Android apps, or search for basic.fm in Tunein radio.
Free Live Performance: 7 September

There will also be a live performance of Rising: The Future of the Race at Tyneside Cinema. Click here for more details.
Welcome to the website for Pixel Palace, Tyneside Cinema's digital art programme, which ran from 2008-2014. Here you can explore our archive of exciting art commissions and exhibitions, as well as the artists we worked with over that time. You can find out more about what is happening with the current Tyneside Cinema Arts Programme at www.tynesidecinema.co.uk/art.